As we continue our celebration of 20 years of The Pekingesewe take a closer look at some of the expats who have been here for two decades and those who have had an outsized impact during their stay.
---
The Pekingese may turn 20, however, Jörg Wuttke celebrates the 40th anniversary of its first trip east from a small town in southwestern Germany. Wuttke is a smart and worthy delegate whom I personally felt more enriched after meeting, hearing his expertise and learning from his experiences in China and around the world.
This world tour Responsible person, Authorityand expertise (Respected Authority and Expert) is a melting pot of wisdom, knowledge and experience. Wuttke is vice president and chief representative of the German agricultural chemicals company BASF China, based in Beijing, and his list of extracurricular activities, associations and interests adds to the wide variety and breadth of his career. this progressive gentleman.
He's not afraid to speak his mind, stand up for what's right, and sometimes say things that won't make everyone smile, but he says his life is guided by a compass. moral. Not only is he a successful businessman, but he's also a family man who says that above all his incredible moments in Beijing, his most important moment in China is the birth of his three sons who now have 10, 11 and 13 years old.
What brought you to Beijing, and when?
I came by train from Germany in the summer of 1982, traveling through the Soviet Union and Mongolia. I had been studying Sinology since 1980 and together with some friends we decided to get a real feel for China, instead of sitting in dusty libraries translating Han dynasty books (in long print). Opportunities in China were rare given the closed nature of China and the lack of educators with real-life experience in China.
What were your first impressions of the city?
Arriving at the station, one of my first unforgettable impressions was a huge portrait of Mao. The photo is now gone, but I'll never forget to stare at it when I arrive. I marveled at the wide, empty streets, seemingly filled with millions of bicycles. People almost exclusively wore blue and green clothes. We lived at the university on the northwest side of the city and often spent our evenings sitting on the deserted main street watching the horse-drawn carriages bringing food to the capital.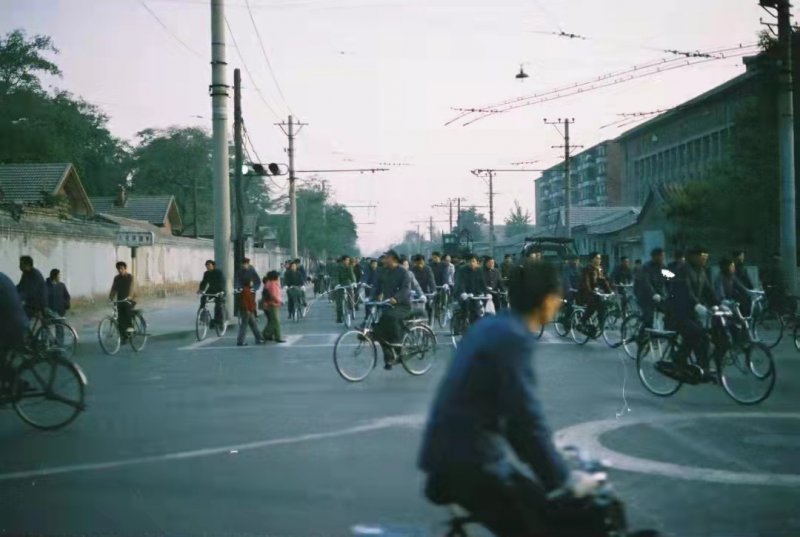 Did you imagine at the time that you would still be here 40 years later?
Not in my wildest dreams, I never thought I would stay more than 30 years in Beijing, three years in Shanghai and one year in Taipei.
Can you tell us about one of your first quintessential experiences in the city?
The shock of tasting real Chinese food for the first time in the restaurant on the train after crossing the border from Mongolia. In Germany, I loved going to Chinese restaurants, yet the cooks were mostly from Southeast Asia.
I'm happy to say that my taste buds were delighted by this first meal, and I found myself singing the praises of Sichuan and Hunan cuisine. I also developed a palate for more flavors, and it was fun to have dinner with Chinese friends. None had been abroad and there were no newspapers and certainly no internet 40 years ago, so their curiosity was overwhelming at times, but they were still humble, sensible young people. Thinking back, I'm so nostalgic remembering China of old.
What has changed the most since your arrival?
Everything has. The infrastructure, cars everywhere and so many people drinking coffee. Also, women now wear only green and blue dresses with only two hairstyle options, short for married women, braids for single girls, to now some of the most fashionable in the world. But also, the Chinese have become more materialistic and stressed, the pressure on people's lives today is much deeper.
How do you think Beijing has changed you as a person?
Beijing has humbled me in many ways, especially in my job, with the rapidity of change and unexpected demands as a manager working among workaholics. Also in my personal life, with all the expressions of appreciation and love that my children have always experienced in Beijing. I raised four boys here, and my adopted daughter from India who was also with us for a while. My children have always been treated with kindness.
What are some of the main reasons why Beijing continues to be an attraction for you to this day?
In 40 years in this town, I've never had a dull day. Never! I love spending time in my slow village in southwestern Germany, and who knows, I might retire there. Will I survive the slow pace? Not sure, especially since Beijing is so stimulating. But I'm 63 now, and I've noticed a stronger need for nature and quiet. Beijing may not be where I retire, but I've had the privilege of spending most of my adult life in China's capital, witnessing the greatest history economic return of world history.
What are your three favorite places in the city?
I'm going to tell you about a magical place, Ritan Park, which has three enchanting things to do there.
1. See old men swinging cages with birds.
2. Watch as people draw Chinese characters on the ground with water.
3. Watch Peking Opera perform in the many corners of the park.
Do you have hobbies?
I'm a huge jazz fan, and I love jazz for several reasons. The first is that it combines discipline and rhythm with individuality. With three little boys, I don't watch much live jazz anymore, but I often listen to Charlie Parker, Keith Jarrett and Billie Holiday at home. I think A Bu stands out as one of the most promising pianists on the Chinese jazz scene.
Are you still doing what you came here to do 20 years ago?
More or less, but with the wonderful twist of life that every day is different. I still run a large German chemical company in Beijing, but our economic footprint is very different from 2002. We are currently building a US$10 billion plant in Guangdong, which is the biggest foreign investment in China. I also chair the EU Chamber which now has nine offices and 1,800 members; compared to the first days after its foundation in 2000 with 50 friends. I was so lucky during my stay in China and lived a rich life, which is also full of its weak points, but for everything I am grateful
What advice would you give to relatively recent arrivals?
My advice would be to travel through the provinces, try to pick up survival Chinese, and I have to say; read about Chinese history, read about Chinese philosophy. I was addicted to books by Jonathan Spence, Simon Leys and Lucian Pye. And be exposed to as much history and philosophy as possible.
READ: 20 for 20: Michele Camargo, early childhood education consultant and music enthusiast
Images courtesy of Jeorg Wuttke